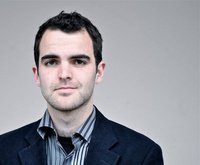 David Burton is a writer currently based in Brisbane, Australia.
David's most noted for his multi award-winning theatrical work, particularly around youth and community issues.
2012: Life etc, with 'All Together Now' and Empire Theatre Homegrown Independent Season; Stuff and Things, an arts podcast, with Carley Commens; April's Fool (national tour) with Empire Theatre Project's Company; two educational works for Grin and Tonic Theatre Troupe.
2011: Losing it, with Claire Christian, (formerly titled Sex and Sensibility) premiering at the 2high Festival
2010: April's Fool first tour, with Empire Theatre Projects Company; Furious Angels with Metro Arts Independents; How to Be Happy with Travis Dowling; Captain Pathos and His Army Of Imaginary Friends for University of Southern Queensland Children's Theatre Festival.
2009: Spirits in Bare Feet for University of Southern Queensland's Children's Theatre Festival, Lazarus Won't Get Out of Bed for Metro Allies and AS Theatre
2008: Smashed for Sunshine Beach State High School.
David also teaches at the University of Southern Queensland, and gives regular workshops for Backbone Youth Arts. His work has been nominated for several Matildas, and April's Fool was shortlisted for the Queensland Premier's Literary Award in 2011.
David is on Twitter and can be found at @dave_burton. You can contact him at anytime by e-mailing hello@daveburton.com.au